First off, I'd like to thank Hungry Mother for giving me this award. Awesome! It totally wasn't deserved, because as well all know, I'm an ass.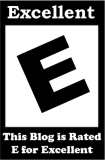 I'd like to pass this award onto 10 others, as is the instructions the award has been given. These ten people have totally cool blogs and deserve it, because they are not asses.

Cyberpunk
Drowsey Monkey - I know she got this one already, but it wasn't from me!
I'm Down with That
Jay's World
Mental Poo
Random Thoughts - Yea Hungry, right back atcha!
Mimzie's Muzings
Tomato, Tomahto
Site Insights
Total Diatribe

I know Hungry awarded this award to some of those on my list too, but I don't know as many bloggers as he does and I wanted it to count. Sorry Hungry, I'm a biter.

Also, I sent in a love post to 1 Million Love Messages. It got published! You have to check out my snarky love post, number 551, posted on January 21st of this year, in case they update tomorrow.